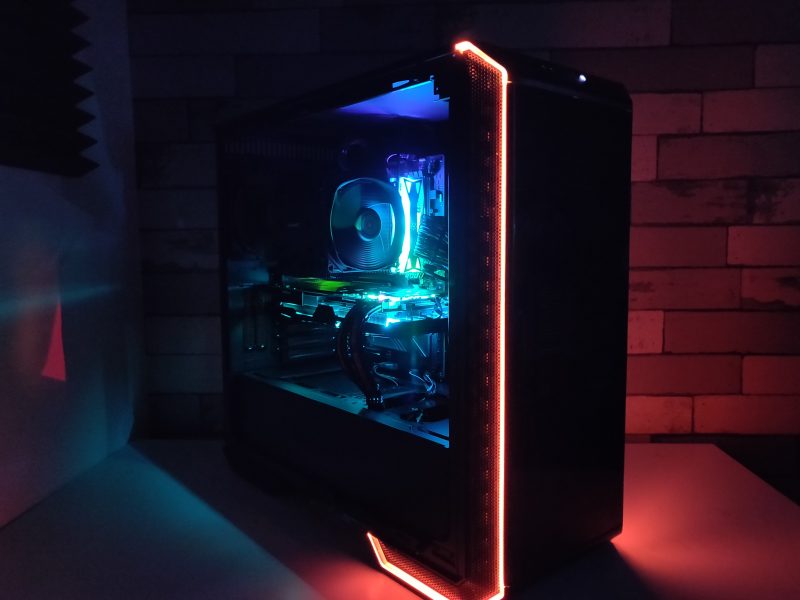 I want to share my experience of creating a quiet computer. Now this topic is becoming more and more relevant and in demand. The popularity of HTPC is growing, most citizens do not need a hot machine for surfing the Internet and browsing the mail. But here it will be a little bit about other approach.
Yes, the main task of the machine that I wanted to collect is really watching movies and listening to music on a big TV in the living room, but here's the problem, I'm not alien to the game …
Before I start describing my project, I will tell you a little bit about how I even came to want to get what's described below. What do I have? I have a 55-inch 4K TV, B&W floorstanding speakers and an integrated Cambridge Audio amplifier with built-in DAC.
We also bought NAS, Synology, so that the question of free space is gone forever. By the way, with the acquisition of the NAS server, I got a lot more than just a huge external drive, as I originally expected, but that's a completely different story. In general, all this good stuff required transport.
Initially, the home MBP was used, but the wires everywhere were constantly switched (and there were at least three of them! – power, HDMI, USB-audio). I had an MBP Late 2014 with Retina, and it fits as a digital vehicle quite well!
It was very quiet and still very capable, but the built-in video was completely out of line with the computer's gaming capabilities, and the constant presence of wires in the living room, as I said, did not please me at all. Even so, I'd be willing to live with this option, but I still don't have time for games anymore. But the aesthetic side of the question kept me awake, so I wanted more…
Then I looked at such a wonderful thing as the Cambridge Audio BD Player. So, I thought, that's it! Great design, top quality workmanship! This player would look great next to my amplifier!
Besides, judging by the numerous reviews in the network, this player of the Company managed to be very capable: all digital formats of audio and video player reproduces on 5 points! Besides, I've been very fond of good music lately, and this device has very non-trivial musical abilities!
I almost stopped at this option and even managed to turn a blind eye to its considerable cost, but something slowed me down! Apparently, it was some kind of unpreparedness to switch from a computer with unlimited possibilities to a highly specialized device, though it seemed to have everything I needed.
But what about surfing the net on the big screen? What about a home computer for some common tasks? What about the games, after all?! The solution was to build HTPCs.
It was a long way to go, and I won't be focusing your attention on it. I'll just say that all the components were chosen at once, but then the epic with the right body began… First, I bought the Cooler Master Elite 110, but it didn't fit me in height.
I don't know how it happened, but it had to be in the cabinet, next to the amplifier, which is 205 mm high. It wasn't enough in general, literally, my puncture, not properly measured. Then there was a long and painful search for an alternative hull.
I've looked at everything on the market for mini-ITX boards, from Sharkoon QB-One and various models from Fractal Design to SilverStone Raven of different generations and even LianLi PC-Q19. Everywhere I was not satisfied with something, then design, then size. The general claim was the quality of production, which is especially noticeable against the background of a considerable price of most models.
Then the look of the Streacom body fell, not represented in Russia. I began to choose, work out the possibility of delivery and assembly of the computer without a single fan. In general, this idea took over me completely, and this story will go on.
When I started with Streacom, my gaze shifted smoothly to a company like HD-Plex. With the same concept of these manufacturers, the second one was much more illuminated in the network. I began to read reviews and tests of these enclosures.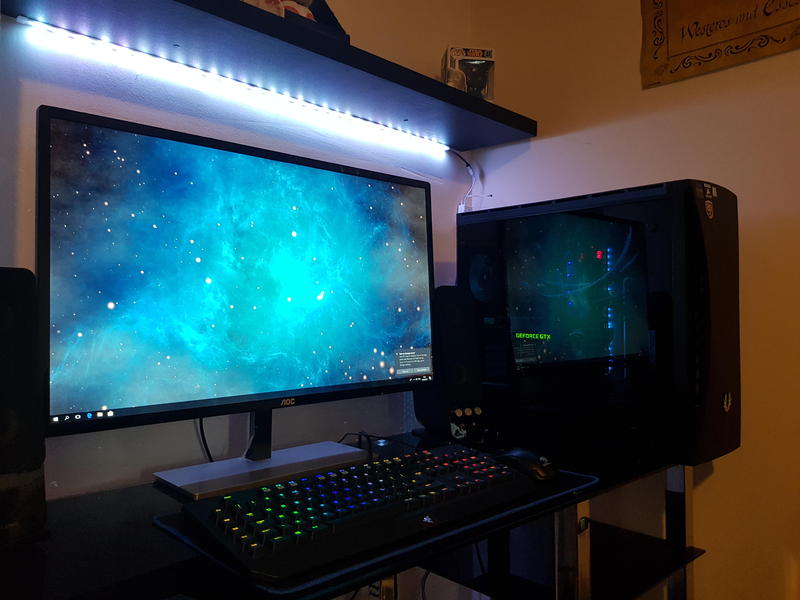 They're usually used as transport in Hi-Fi systems, but what really caught my eye is the ability to assemble a mid-range gaming PC in such a case! The final aspect of the decision was the convenient delivery to Russia, which offers HD-Plex.
The description on the manufacturer's website shows that the enclosure has typical dimensions for Hi-Fi equipment: 430 x 353 x 115 mm. The enclosure is made of extruded aluminium panels and can accommodate almost any component.
Judging by the photos and many descriptions, the quality of the housing does not raise any questions. This is how the order was placed. Along with the case, a system for passive cooling of the GPU processor was also purchased.
Delivery was made to the Russian address, payment by card on the manufacturer's website and a week and a half later the cherished notice from the Russian post office was in my mailbox! It should be noted that, despite a very decent price tag, the shipment was made through a very inexpensive service Deutsche Post, which partner in Russia is our valiant Russian Post.
The number for tracking was provided. In general, a week and a half later, a Russian Post employee happily dragged out a large branded bag (just like from under the potatoes, only white) with a request to "get and sign". I had tears in my eyes from the sight of how my purchase was treated in front of me and the thought of what she had experienced on the way!
Naturally, I unpacked the case right at the post office and to my surprise I discovered that the large outer crumpled box contained another box in which the case itself was packed. It was perfectly safe and I crossed paths and left my autograph with the Post and went home.
Before I go any further, I'd like to focus a little on the power supply to build the future PC. It's no secret that the choice of power supplies with decent power and passive cooling is, to put it mildly speaking, meager.
The manufacturer of the case offers several solutions for power supply, focused primarily on achieving the cleanest possible power supply for high-end audio transport, but my tasks implied other priorities.
On the one hand, I needed more power supply power than HD-Plex solutions suggest, and on the other hand, I have no increased "audiophile" requirements for power quality, because I use USB Audio and an external DAC built into my integrated amplifier, and I did not plan to install a sound card in the PC.
First of all, I would hardly have achieved any improvement of sound quality in spite of formally higher quality DAC in the sound card even at the level of ASUS Xonar Essence STX II. Secondly, I need a PCIe slot to install a discrete graphics card, and the motherboard mini-ITX is already available and I did not want to switch to a larger one.
In general, after a long search the choice fell on the power supply ZF240 Fanless 240W ZeroFlex PSU.
The power supply unit, according to the manufacturer's assurances, has the declared power of 240 W (it is emphasized that if this unit were assembled in an active-cooled housing, it would be certified as a 400 W model), fully passive cooling and efficiency of 93% (which means that heat does not exceed 17 W, which is not much!). This wonderful device was ordered on eBay and delivered in the same way and also intact (and also fast!).
Finally, I can move on from the introduction and description of my preparations directly to what the topic was conceived for. Here I should probably apologize to you for such a long narrative, but I think it was important for understanding my decisions.
I also think that this apology should have been made at the beginning of the article… Since you have finished reading these lines, it makes no sense to leave further reading and we continue.